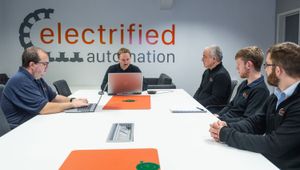 With unemployment at its lowest level for 50 years and UK vacancies standing at 1.3 million it is a buyers' market if you're on the hunt for a new job. However with supply outstripping demand it is making it harder for businesses to recruit the skilled workers they need.
For Electrified Automation recruitment is the number one priority, as it continues to onboard new staff to keep pace with a growing order book.
The company designs and manufactures automation technology for the electric motor industry. It is an exciting, dynamic business that has had millions of pounds in backing from the Government-funded Advanced Propulsion Centre.
Yet despite being a company at the forefront of the electric revolution in the UK automotive industry, finding people with the right skills is a constant challenge.
Jim Winchester, Managing Director of Electrified Automation, said: "Recruitment has been a key area of focus for us ever since we launched in 2021.
"We are looking for people who are passionate about innovating and delivering low carbon technology, but part of the problem is not enough young people are taking engineering-related, or STEM subjects, at school.
"If the UK is going to continue leading the transition towards electrification, we need to put more emphasis into growing our own talent.
He went on to say: "We also need some quick wins to tackle the immediate problem, as we just aren't getting enough applicants through the door with the right skills. Otherwise, companies like us will have no choice but to look overseas to plug their resourcing gaps."
If you are interested in a career in automotive engineering, visit the Electrified Automation website and check out the latest jobs or register your interest for future opportunities. www.electrifiedautomation.com/careers