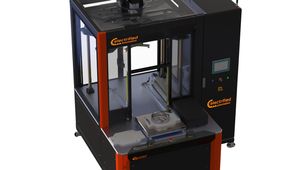 Electrified Automation unveils new manufacturing technology that brings together increased automation and reliability with precision accuracy to achieve high volume electric motor production.
Their new electric motor housing shrink fitting machine, or Hot Drop, uses the latest in heating and press technology alongside intuitive and easy-to-use software.
Jim Winchester, Managing Director Electrified Automation, said:
"We know that companies producing electric motors are demanding higher production volumes and technology that delivers reliability, repeatability and quality.
"Our Hot Drop machine responds to this by improving process control and reducing product failures.
"It also achieves a huge reduction in processing time compared to typical inline equipment, which can often become a major bottleneck within a manufacturing facility."
He went on to say:
"The machine can be integrated into any electric motor production line and is industry 4.0 ready."
For more information and the full technical specification visit www.electrifiedautomation.com/hotdrop