Electrified Automation awarded £6m in government funding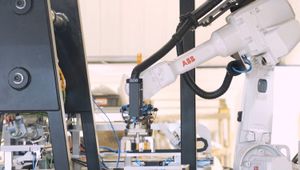 Electrified Automation has been awarded £6m in government funding to further develop their innovative process for manufacturing electric motors that are more cost-competitive, powerful and efficient than many of the products currently available in the marketplace.
The grant has been awarded through the Advanced Propulsion Centre (APC) Collaborative Research and Development programme, which supports the development of innovative low and zero carbon automotive technology.
Business Secretary Grant Shapps said:
"Our automotive industry is a world-leader, creating jobs whether in Essex, Somerset or Glasgow. Seizing the potential from new technologies will be a key part of its future success, while also making our roads cleaner, greener and more affordable.
Today's multi-million-pound boost – created by Government working hand-in-hand with industry – will put these firms in pole position to pioneer these innovations, staying at the cutting edge of the global race for decades to come."
Managing Director of Electrified Automation Jim Winchester said:
"Being awarded APC funding for the PIMMS project is a huge step forward for us and our partners.
"We look forward to seeing how our innovative technology and software will help the electric motor industry achieve the high levels of production needed to drive the transition towards low carbon vehicles.
"It is also vital our manufacturing techniques are sustainable, so we have also put a lot of focus on reusing and remanufacturing existing electric motors within our processes."
Chief Executive at the APC Ian Constance said:
"Supporting vital research and development in the UK, now more than ever, provides an opportunity to invest in transport decarbonisation as well as boost growth in the automotive sector.
"The funding announced today furthers world-leading innovation in net-zero technology for the automotive sector and beyond. These fantastic projects are all collaborative by design, led by high-profile companies with innovative SME and academic partners, representing the best of UK industry."
Project PIMMS
PIMMS is a consortium including Electrified Automation, Winman and Aspire Engineering.
The PIMMS project will design and deliver world-leading manufacturing processes for high-volume electric motor production alongside a software solution to automate the manufacturing environment that will offer unrivalled data gathering capability.
The aim of Project PIMMS is to remove the barriers that prevent OEMs and Tier1s achieving high volume electric motor manufacturing; specifically in relation to coil winding, mechanical assembly and automated test solutions.
A traditional manufacturing model is resource intensive, particularly in terms of managing supply chain and customers, which limits the UK's ability to compete in the global economic marketplace.
To help level up the playing field with overseas manufacturers, PIMMS also includes a software platform to automate all areas of the manufacturing environment, linking the production facility with the external world.
And finally, as global motor production increases so does the need to find end of life solutions for electric motors, so to respond to the sustainability challenge project PIMMS will develop innovative 3R (Recycle, Reuse and Remanufacture) strategies for electric motors to optimise their value and achieve closed loop manufacturing.