Stator Test Machine Launch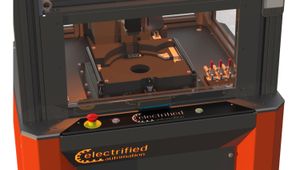 Electrified Automation is excited to announce the launch of its Stator Test Machine.
The technology has been designed to remove the complexities of stator and motor testing, helping customers increase reliability and reduce manufacturing time.
It can run multiple tests including:
Coil turn to turn fault checks
Phase to phase short checks
Continuity testing on temperature sensors
Hi-pot checks on the motor insulation
Surge deviation tests
The Stator Test Machine also has the capability to select pre-programmed test parameters by scanning a barcode on the motor. This ensures customers achieve the correct configuration every time.
Jim Winchester, Managing Director of Electrified Automation, said: "Our Stator Test Machine is pushing new boundaries in motor testing and production.
"I am so proud of our team at Electrified who continue to deliver innovative technology that is helping the UK drive the electric revolution. We have come so far in such a short space of time and are looking forward to seeing how our Stator Test Machine will help our customers improve motor efficiency across a range of off-highway applications."
For more information, an explainer film and the full technical specifications visit our Stator Test Machine page